Introduction to Strater®
Welcome to Strater, a powerful well log, borehole, and cross section plotting software package. Strater creates 14 different log types: depth, line/symbol, crossplot, zone bar, bar, percentage, tadpole, post, classed post, complex text, graphic, lithology, well construction, and function logs. Each of the logs can be modified to suit your needs. Strater also creates maps to display the well locations and cross sections that interpolate between wells. Strater exports to a variety of formats, including a direct export to Golden Software's Voxler program.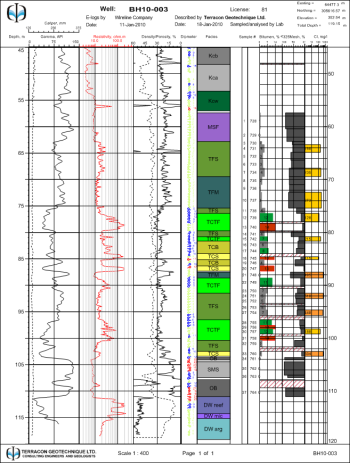 Create individual logs or create
cross sections connecting multiple logs.
Data
Data can be imported from many sources, including ASCII text files, LAS files, and just about any database. Strater's internal data structure can contain multiple tables. Multiple boreholes can be stored in the data tables at one time.
Multiple Boreholes, Multiple Views
Strater can have multiple boreholes displayed in a single view, and create multiple borehole views in a single project. You can specify a different borehole for each log in a borehole view with a few mouse clicks.
Reuse, Reuse, Reuse
Once you design a borehole view, you can use the design repeatedly with other data. There are several features in Strater designed to save time with borehole graphic processing. After creating an initial design, you can take advantage of templates and schemes, which can be used in different projects with different data or in the same project multiple ways. Templates store the design elements of a project, including log items, header and footer items, data tables, and schemes.
Schemes contain detailed information of how the data relate to drawing properties. For example, a lithology log uses lithology schemes, which contain keywords, such as granite, clay, etc. Each of these keywords is assigned a fill pattern, contact line properties, line properties, and font properties. Schemes can be reused; therefore, you do not have to go through the process of assigning properties each time you create a log.   
Strater Projects
A project file consists of all borehole views, data tables, and optional schemes, and is saved in a single .SDG file. When Strater first opens you see a blank, unnamed project to which you can add all the components necessary to create the borehole design. Once the borehole design is complete, use File | Save to save it to an .SDG project file. View visibility and table cell formatting is saved with the .SDG project file.
Strater also provides batch printing and exporting. You can design a log and then print or export the log with multiple borehole data.
System Requirements
The minimum system requirements for Strater are:
Microsoft Windows® XP SP2 or higher, Vista, 7, 8, 10 or higher

1024 x 768 x 16-bit color minimum monitor resolution

At least 500 MB of free hard disk space

At least 512 MB RAM above the Windows requirement for simple data sets, 1 GB RAM recommended
Strater Demo Functionality
The Strater demo version is a fully functioning read-only demo. This means that most commands work exactly as the command works in the full program. Saving, exporting, printing, and copying are disabled in the demo version.
The demo has no further restrictions on use. Any data set or image can be used to create any project. All properties can be changed in the demo version. The demo does not have a "time-out period" so will not expire after a certain number of hours or days of use. The demo can be installed on any computer that meets the system requirements.
See Also