Save As
Click the File | Save As command to save a modified project with a new file name or save a project as a Strater template .TSF file format.
Save As Dialog
Click the File | Save As command to open the Save As dialog.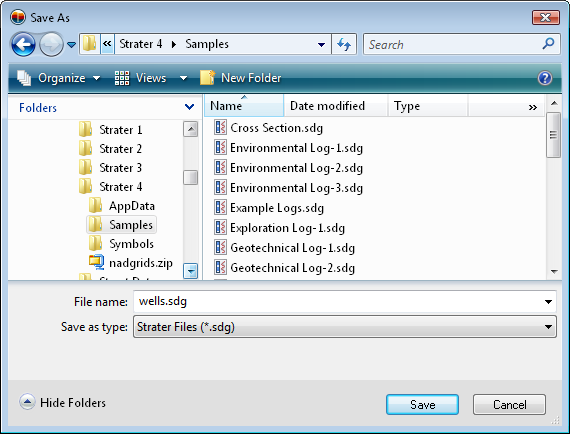 Type a File name to save the Strater file to a new name.
Save In
The Save in field shows the current folder. Click the down arrow to change the folder.
Button Shortcuts
The buttons to the right of the Look in field allow you to create new folders and change the view of the file list.
File List
The File list displays the files using the extension specified in the Save as type box. A file can be overwritten by selecting it from the file list.
File Name
The File name box displays the name of the selected file, or you can enter the path and file name of the file to be saved.
Save As Type
Select the file format in the Save as type list. If you would like to save another file type, for example a bitmap, use File | Export | Graphic.
Save and Cancel
Click the Save button to save the file with the selected options. Click the Cancel button to not save the file and return to the view window.
See Also
File Menu Commands