Combine Logs
In some circumstances, you may want to combine logs. For example, a gamma ray line/symbol log can be combined with a lithology log, creating a variable edge (gamma ray) on lithology log.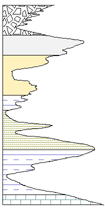 A lithology log is overlaid
with a line/symbol log to
create the graphic above.
The following example shows the steps to create the log shown above, although you can combine any types of logs.
To overlay a lithology and line/symbol log:
Create a lithology log in the borehole view.

Create a line/symbol log in the borehole view. The lithology log and line/symbol log must have similar starting and ending depths.

Select the line/symbol log in the borehole view.

In the Property Manager select the Fill tab.

Expand the Log Fill section by clicking its.

Set the Log fill on to Right.

Click the Pattern field and select Solid.

Click the Foreground color sample and select White.

Right-click the line/symbol log in the log pane and select Order Objects | Move to Front.

Select both the lithology log and the line/symbol log. To select both logs, click one log name in the Object Manager, hold down the CTRL key on your keyboard, and then click on the other log name.

Select Arrange | Align | Center. The combined log is created.
If you see an additional line to the right of the logs, you can change the width of the line/symbol log slightly, for example 0.05 inches, to block the line. This takes a bit of experimentation, depending on the line widths and widths of the logs. The log widths are controlled in with the Arrange | Size controls.
See Also