Strater User Interface
Strater contains four document window types: borehole view, map view, cross section, and table windows. Borehole views display various log types. Map views display post and base maps that can be used to identify where individual wells are located. Cross sections are created and edited in the cross section view. The data is opened, edited, and transformed, and saved in the table windows.
Left-click on the image below to see detailed information about the various parts of the Strater window.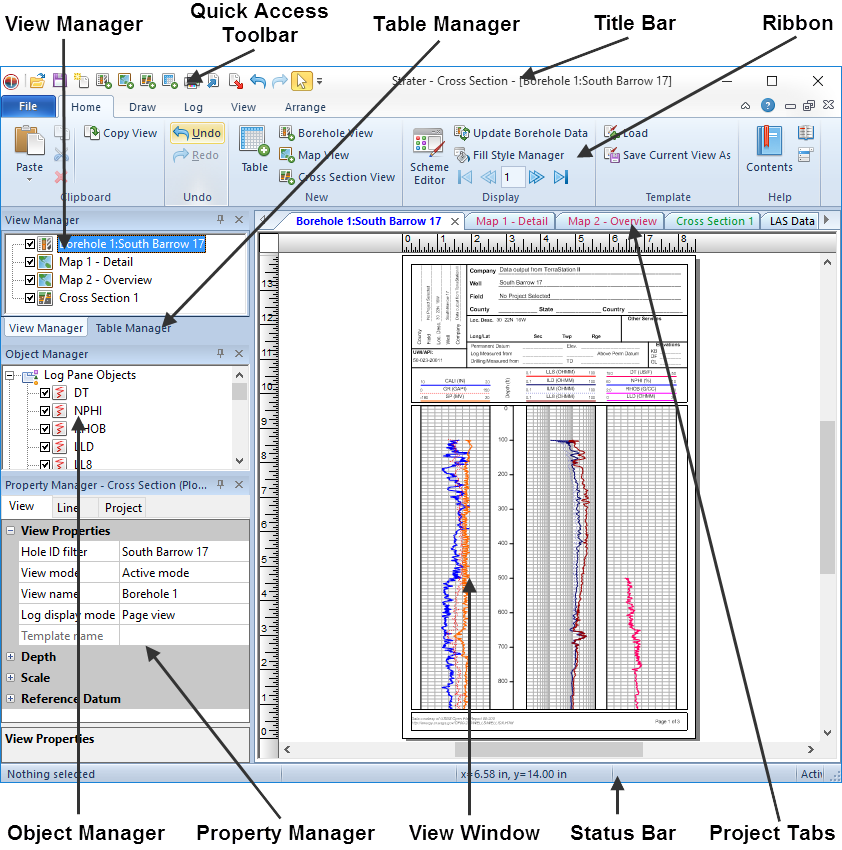 This is the Strater borehole view with the tabbed View and Table Managers, Object Manager, and Property Manager windows displayed on the left side.
Tabs displaying the view windows and tables are displayed above the horizontal ruler. Left-click anywhere in the image to see
detailed information about each part of the Strater window.
Opening Windows
Clicking the File | New command opens a new project, or adds a new borehole view, map view, cross section view, or table to the existing project.
Strater Layout
The following table summarizes the function of the Strater layout components.
| | |
| --- | --- |
| | The title bar lists the program name plus the saved Strater .SDG file name. An asterisk (*) after the file name indicates the file has been modified since it was last saved. |
| | The ribbon contains the commands used to run Strater. |
| | The Quick Access Toolbar contains Strater tool buttons, which are shortcuts to menu commands. Move the cursor over each button to display a tool tip describing the command. The Quick Access Toolbar can be customized with the File | Customize Ribbon command. |
| | The View Manager displays a list of all of the borehole view, map view, and cross section windows open in the existing project. |
| | The Table Manager displays a list of all the data tables open in the existing project. |
| | The Object Manager contains a hierarchical list of the objects in a Strater borehole view, map view, or cross section window. These objects can be selected, added, arranged, edited, and renamed in the Object Manager. The Object Manager is initially docked on the left side above the Property Manager and below the View Manager. Changes made in the Object Manager are immediately reflected in the borehole view, map view, or cross section window. The Object Manager can be dragged and placed at any location on the screen. |
| | The Property Manager allows you to edit any of the properties of the selected object. When no objects are selected in the borehole view or cross section, the general properties for the window are displayed. |
| | Multiple borehole views, map views, cross sections, and tables can be displayed as tabs. Click on the tab to display that window. |
| | The view window is the area where the selected borehole view, map view, cross section, or table is displayed. |
| | The status bar displays information about the activity in Strater. The status bar is divided into five sections that contain information about the selected command or object, depth or XY position, size of the selected object, and the page number that is currently displayed. |
See Also